The National Geographic Society, Washington D.C., sent me a beautiful certificate confirming my membership of the Society, as from 2nd January, 1950! (I only gave up membership in Johannesburg years later - all accumulated magazines were given to the Pelmama Academy Soweto, the maps I kept into retirement).
In January, 1950, we spent our holidays in Grindelwald. One day we went up to the Kleine Scheidegg and with the ski-lift up the Lauberhorn. I also remember going up once with my ski-fells from Grund to the Männlichen - there was deep snow, nobody in sight, and the only sound I heard was my heart pumping! I also remember going a few times from Kleine Scheidegg along a snow path below the Tschuggen to the Männlichen, and from there skiing down to the "Grund" - this was all before ski-lifts and cabin-lifts were operating in that area. I have not forgotten how my ankles hurt skiing downhill, as most of the stretch was with the mountain side to the right, and I have always had a problem with my right ankle, even with ice skating at the old Kunsteisbahn at St. Margarethenpark, Basel!
On 2nd April, 1950, I was confirmed by Pfr. Willy Bremi at the Zwinglihaus, Gundeldingerstrasse, Basel. I enjoyed the confirmation classes, as Pfr Bremi used to show slides from archaeological sites to underpin the Bible (for more interesting details and images see aforementioned link).
On a Sunday in May 1950, I did a bicycle tour in the Birsig valley in the Leimental, through Binningen, Oberwil, Benken, Flüh, up the gravel road to Mariastein, returning via Ettingen and Bottmingen, visiting the recently renovated castle surrounded by a moat.
In June, 1950, our Father gave notice that he was leaving the Actienbrauerei, Basel, per 31st December, 1950. They could not offer him the conditions he was aiming at (at the beginning of the year, he had been approached by Gebrüder Bühler, Uzwil, to join them the following year, to run and develop their Brewery Division).
The summer holidays were spent with my brother Henri and our Mother in Auxonne (Côte d'Or) at 3 rue Carnot, with "Nany", our grand-mother. We had entered France at Pontarlier on 10th July. We did a lot of explorations of the town and environs, and spent a long time looking at all books in their library, even writing to my god-father, Alfred Schiesser!
I also remember from this time that I went through all the accumulated letters kept by Nany in her attic - there were dozens of cards and letters particularly from Morocco or Algeria where they had often been on holidays, from other French colonies and from the family in La Réunion or Madagascar, and from Deauville - I cut out all the beautiful stamps to add to my growing collection! Stupid of me, one of my old school mates from Basel was the son of "Marken Müller" - somehow I gave him a lot of these stamps for nothing, as a farewell when I left Basel!
One day in July, I went by bicycle from Auxonne to Dijon where I visited the Hotel de Ville, formerly the Palais des Ducs de Bourgogne, the musée Magnin, the Notre-Dame church. On my return, I visited the Chartreuse of Champmol.
Once I attended Sunday mass at Auxonne, from beginning to the end, the first time I attended a full service, mainly held in Latin.
At the beginning of August, I also visited my great-uncle in Nuits-St-Georges where I spent a night, then carried on to Beaune and Autun, and back via Nuits-St-Georges to Auxonne.
N.B.: click on images for a better view!
On the late afternoon of 6th August, we saw all the participants of the year's Tour de France cycling through - the "maillot jaune" on that day was the Swiss national cycling champion, Ferdi Kübler! We returned to Switzerland on 7th August via Pontarlier.
On 9th August, 1950 I was in Luino on the Lago Maggiore; nearly a month later after having been in Milano and other parts of Italy, I returned on 4th September to Switzerland via Paglino, crossing the Simplon to Brig, then down the Rhone valley to Montreux, with the train over to Château-d'Oex, then somehow to Biberist near Solothurn where I stayed over with my godfather Alfred Schiesser and his sister Hetty. My mother reminded me years later that she had been told that I was so hungry on arrival at their place, I ate at least two full plates of spaghetti which was meant to be for the rest of the family. Alfred Schiesser, a friend of my Father's from his student days in Zurich, worked at the Papierfabrik Biberist, which he had joined in 1935 as a "Prokurist" (in 1956, he was appointed as a "Stellvertretender Technischer Direktor", and in 1961 he was pensioned). I remember that he showed me around the whole factory the next day, most amazing this huge machinery needed to make paper! (more on this in "100 Jahre Papierfabrik Biberist: 1865-1965" published by Orell Füssli, Zurich, 1965).
On 30th August, 1950, Father, as wearer of spectacles, had to have a driver's test and a new driver's licence issued in Basel, which had to be renewed annually in those days! He used a photo from 1932 (!) which he had already used in Montevideo, taken by Photo-Pleyer, Zurich! (The licence was endorsed for "leichte Motorwagen" and was renewed annually until 31st December, 1953).
In October, 1950, I was in Paris for a short while, staying with my godmother Suzanne at 224 Rue de Rivoli opposite the "Jardin des Tuileries". One had to pass a "concierge" on the ground-floor. All I remember was the great library Jean Brun had in his apartment, and that one evening they took me to the near-by "Opéra Comique" to enjoy a performance of "Carmen" by Bizet. I remember being taken aback by the wonderful songs. We were sitting in a side balcony, everybody was dressed in dark, except for one person on the ground floor wearing a red chequered jacket - quite an eye sore! After that we went to eat a traditional onion soup! During my stay, I took a lot of photos such as of la Tour St Jacques, le Pont Alexandre III. and Le Grand Palais, the Quai de l'Hôtel de Ville with all the booksellers, the Palais de Justice, l'Hòtel de Ville. I remember also visiting the original Musée Guimet with their magnificent collection of Khmer objects.
Between July and December, 1950, I did a whole series of photographs of Basel, in b/white.
My brother left the M.N.G. and I left the Kantonale Handelsschule (Maturitätsabteilung), Basel, on 16th Dezember, 1950, as the family was moving to St. Gallen. This would cause me quite a problem in my further education.
On 21st December, 1950, my godmother Suzanne Genevois finally married Jean Marcel Brun in Paris 1er arr.. Their address was 224 Rue de Rivoli, Paris 1er (the only "Brun" in this street recorded in the Paris telephone books for 1949-1951 - information which I only got confirmed in 2010!).
We lived at Iddastrasse 13, St. Gallen, in a block of flats, from 26th December, 1950, till we left for South Africa in 1954.
Shortly thereafter, I carried on my education at the Institut auf dem Rosenberg, St. Gallen, in the T1 class, being the preparatory class for the Swiss matric. My parents really could not afford this, but moving from Basel to St. Gallen, one lost 6 months. My brother also studied at this Institute during 1951 and 1952.
According to the "Handelsregister" of 7th February, 1951, Father's "Prokura" at the Actienbrauerei Basel was struck off the register.
Father started work with Gebrüder Bühler, Uzwil, from 1st January, 1951, as C.E.O. of their Brewery Division. Uzwil is half-way between St. Gallen and Wil SG.
In winter, if there was a lot of snow in St. Gallen, I used to take the train up Speicherstrasse to Notkersegg or just beyond and sledge or ski back to St. Gallen.
Sometimes during this year, my Mother took me to an exhibition in a museum, probably the Kunstmuseum in Zurich. All I remember were some most disturbing images of Ferdinand Hodler' sickbed scenes - I do not know if these were part of their museum collection or if it was a special exhibition.
I attended special and expensive memory enhancing maths courses at the Trachtenberg Institute, Zurich, for a short time. The idea was to do multiplications and divisions without writing any intermediate results. I remember the "9er" and "11" rule. When on the 20th March, 1951, I stopped going to the courses, Jakow Trachtenberg scribbled his comments on one of my working papers!
On the next day, 21st March, I got my certificate from the "Institut auf dem Rosenberg", an expensive Private College. I had attended the 2nd trimester, class T1, Sect. R, 1950/51 period. One of our teachers I shall never forget was Prof G.O. Dyhrenfurth who often spoke of the Gobi desert and who had climbed many peaks of the Himalayas. Shortly after this I sat for a matric examination in most likely Wil (I remember having to travel by train), but having a total blank at the sight of the first part of my 3-hour paper, I left the examination hall before lunch and went home. I remember Mother's great surprise - and now what?
Father being in the trade suggested I do a brewery apprenticeship and I was introduced to the Bierbrauerei Schützengarten, St. Gallen, where I started on 2nd April, 1951 what was meant to be a 3-year apprenticeship. Once a week I had to attend for 8h40' the "Gewerbeschule", and at the end of the day, I had to record all my work activities and explain what the various processes were in a "Brauer-Tagebuch". Within a fortnight, I cut myself badly, I started getting eczema all over my arms which was aggravated by the unavoidable contact with a yeast/sulphur combination used to scrub the floors. I had to forget about becoming a brewer and was released of my apprenticeship for health reasons (eczema), by the cantonal "Lehrlingskommission", per 31st July, 1951!
On a week-end during April, 1951, I visited Arbon TG.
On 1st September, 1951, Father got a reply from the Federal Department of Justice and Police, Bern, setting out the conditions applying then to having dual citizenship ("Doppelbürger").
According to the Air Passenger Manifest, Father flew on 17th September, 1951, with KLM from Amsterdam to New York, in transit to Venezuela. He had to go to South America on behalf of Gebr. Bühler Uzwil - he spent some weeks in Barranquilla, Columbia - I remember he told us that he did not enjoy the place as it was very uncomfortable. On the way back, he passed via Mexico City, from where he sent us some postcards.
In October, 1951, I and Henri were in Paris again, with our Mother, staying at Yolande Genevois. Whilst Mother and Yolande went shopping in Paris, and Henri stayed in the flat reading all the "Ali-Baba" books, I went on my own to see in Versailles the Château and the Grand Trianon and many other places, in Paris the statue of Jeanne d'Arc at the rue de Rivoli, the Madeleine, Place Vendôme, the Champs Elysées and l'Arc de Triomphe, le Panthéon and the Place de la Concorde. I also saw Les égouts de Paris (underground canalisation) and the Roman amphitheatre, the Arènes de Lutèce,
and in St. Denis, the Basilique of St. Denis.
On 22nd October, 1951, the Mairie de Dijon issued a copy of my birth certificate from 1934, file 180.
In October, 1951, I passed Schloss Werdenberg near Buchs SG, Burgruine "Blatten" bei Oberriet, Schloss Gutenberg bei Balzers in Liechtenstein, Schloss Sargans und Ruine Wartau.
On 11th February, 1952, I started what was meant to be a 3-year banker's apprenticeship with the Private Bankers Wegelin & Co., St. Gallen. In view of my educational level, I was given credit of one year.
On 1st March, 1952, our family visited Father's step-brother Karl Gmür who was living at Schmelzbergstrasse 54 in Zurich.
I joined a photographic club in St. Gallen; we met in some fully equipped cellar and learned all we could about developing one's own pictures in black/white - it was just an expensive hobby, unfortunately.
I passed through Chiasso on 20th July, 1952, stayed over at the Youth Hostel near the Palazzo Sforzesco in Milano (I remember sitting around a fountain, talking to some elderly Italians passing the time, in my best Italian, also to a young blond German who told me he never wanted to see war again!). Somehow I travelled to Pisa where I saw the Leaning Tower, then carried on to and visited Genoa on 23rd July (when I was due to leave the city, I got onto the wrong side of the track, I nearly went to Rome instead to France, luckily I could get out in time at the next station!). I left Italy via Ventimiglia on 24th July, 1952, entering France. I still have pictures I took early in August from Haut-de-Cagnes, and St.Paul (Alpes Maritimes). I left France for Italy via Ponte S. Luigi (Ventimiglia) on 7th August, 1952, then proceeded to Stresa (about 9th August, climbing up to the Monte Mattarone with the Trenino, having a wonderful view of Stresa, Lago Maggiore and the Borromaic Islands; I also took a nice shot of Madonna del Sasso above Locarno ("fa brutto tempo").

As from 1952, my brother Henri went to the Gymnasium der Kantonsschule St.Gallen (Matura C), having studied previously at the Institut am Rosenberg (1951-1952).
During the years we stayed in St. Gallen, my parents went to many bridge parties. My father also taught us how to play chess.
My military service book shows that I had been allocated to the communications unit ("Übermittlungstruppe") as "Funkerpionier" 1953/Zone VI/33. Over a long period I had been attending practice courses in Morse, once a week, in the evening.
I had in mind leaving Switzerland one day for South America, either Peru or Chile. So I attended over a long time Spanish classes at the Benedict College - I remember we were only 3 students and the Spanish teacher, a lady, only spoke Spanish, never a word in German - a very good way to learn fast!
I also regularly attended short-hand courses according to the Stolze-Schrey method, in German, English and Spanish, in some of the languages up to commercial short-hand. This was as a follow-up to what I had already learned at the Kantonale Handelsschule, Basel, during 1949/50, during which time I had also learned Italian.
Henri and I got from Papa a postcard of the Voortrekker Monument in Pretoria which he had visited on a short trip, dated 18th May, 1953. He was then working in South Africa for Gebr. Bühler, Uzwil, erecting a large grain silo in Lichtenburg (he left the firm per 31st August, 1953). He hoped that Henri was helping with the domestic chores! At that time it was not easy to fly over Africa, I remember he flew with Trek Airways from Luxembourg, stopping over in Marsa Matrouh, Khartoum and Dar-es-Salaam.
On 30th May, 1953, I absolved my last compulsory gymnastics test required by the army, which was recorded in my military "Dienstbüchlein"!
Mid-year, I went up the Säntis, the one and only time. Unbelievable, I bumped into an old school comrade from Basel, so we exchanged news on top of the world!
Mid-August, 1953, a lengthy trip took me to the Riviera in Southern France. I travelled to Chur, Muottas Muraigl, staying at the Bernina Hospice, then crossed the border to Italy at Tirano Ferrovia on 16th August, carried on to Bellano ("Morgendämmerung" on the shores of Lago di Como according to one of my photos), then Monza, Torino and Cuneo where I stayed over on 17th August at the local police station in one of their cells (I had no money, it was too late to find another place to stay). I then left Italy on 18th via Limone Piemonte and Fanghetto, according to stamps in my pass, entering France over Ventimiglia and Menton, travelling onto La Turbie and Cannes, staying there at the home of my godmother Suzanne. I remember in particular that her husband Jean Brun made us once an excellent "bouillabesse", that he had a most exciting library and that he often would talk about French literature, writers and poets.
During these holidays, I travelled by bus but mainly with a hired vélosolex (which in those days one could ride without a driver's licence as maximum speed was 30 km/h) to visit the Cap d'Antibes, Vallauris (where I bought a Gerbino vase), Castellaras, Gorges Supérieures du Loup, Auribeau-sur-Siagne, Grasse (where I visited a perfume factory), Gorges-du-Loup, Gourdon, Castellane, Rougon (walking along the Gorges du Verdon), La Maline, Moustiers-Ste-Marie, Salernes, Saint-Maximin-la-Sainte-Baume, as my photo album records.
During this period, I also travelled to Marseille, staying at the Youth Hostel somewhere on top of a hill overlooking the city - I remember this well, for I had a long philosophical discussion with a middle-aged lady from the USA who was a writer, staying at the YH in Marseille for a while. It was probably the Youth Hostel at the Chateau du Bois-Luzy. I also saw the "Unité d'Habitation Le Corbusier" in Marseille which had recently been completed by this famous architect.
I left France on 2nd September 1953 from Menton, entering Italy at Ponte S. Luigi (Ventimiglia) on 3rd September, according to the entries in my pass. On 5th September, I sent a card of Stresa to my parents, from Domodossola, from where I was taking the bus over the Simplon, spending the night in Visp, stating I would carry on the next day over the Furka to Zurich and home to St. Gallen.
At about this time, my brother Henri and our Father, together with Uncle Charles and Karli, visited Helen Gmür in Teufen, as she was recuperating in a "Kurhaus". The image shows them all dressed in their "Sunday best".
As from 4th September, 1953, Father worked at the Brewery Karolos Fix in Athens, assisting in their reorganisation as Production Manager. I remember him telling us that the workers were very poorly paid, and all they ate every day was a bowl of olives and rice and that he felt very sorry for them. The brewery's capacity was 250'000 hl/year.
Whilst working at Wegelin & Co., I started buying and selling shares and bonds on a small scale, but it paid off! I particularly remember an investment in bonds in "Hidrandina", a Peruvian electricity company, lowly priced but with a high interest payout. A certain percentage of the bonds were called back on a yearly basis and paid out in full. So I made a good deal. My salary as an apprentice at Wegelin & Co. was CHF80, then CHF100 and finally CHF120 p.m.
I befriended Erika Wegelin who assisted her father towards the end of the year. I remember being invited to a formal party at her father's home which was in a large park-like property at Rorschacherstrasse 272 on the East side of St. Gallen. I was in particular impressed listening to a few songs presented by a "Minnesänger", a minstrel. I also went (alone or not) to some plays at the theatre in St. Gallen and I also remember going at least twice to enjoy opera and light-opera ("Der Studentenprinz", "Cosi fan tutte" by Mozart).
Sometimes during December in 1953, Father who was living in Athens, asked Mother in St. Gallen to send him the original life insurance policy from The Colonial Mutual Life Assurance Society which had been issued in Melbourne back in June, 1928; she thought this was not above board, so promptly decided to go to Athens, unannounced, as soon as possible!
Switzerland - 1954
On 25th January, 1954, Father's new Swiss pass was issued in Athens, Greece (in the name of "Haenggi").
On 2nd February, 1954, Mother got a visa from the Greek Embassy in Bern, she reached Athens on 7th February, stayed at the Hotel King George II., where she found out what the problems were, returning to St. Gallen again on 19th February. Father had met a Jewish woman from Johannesburg and needed the money for whatever purpose.
On 20th February, 1954, our Father left the Brewery Karolos Fix, Athens, he entered South Africa on 26th February, 1954 (per SA aliens' registration certificate) and started promptly two days later at SA Breweries Ltd., Johannesburg, at the Head Office at 161 Commissioner Street! I remember that shortly before this, he had been interviewed by the Directors of J.C.I. (Johannesburg Consolidated Investments), in London, who at that time controlled the SA Breweries operations in South Africa. On arrival in Johannesburg, he first stayed briefly at the Hotel Casa Mia in Berea, Johannesburg.
Brother Henri tried his first cigarettes at the flat in Iddapark!
On 18th March, 1954, I got my testimonial from Bank Wegelin & Co., St. Gallen, having just successfully completed my abridged apprenticeship. The bank's staff I remember from then were Messrs Blumer, Wacker, Gschwind, Thoma and Mrs Halder, as well as Mr. Stäheli.
On 26th March, I duly received my Swiss certificate of proficiency (Fähigkeitszeugnis: kaufmännische Lehre - Wegelin & Co., St. Gallen).
The practical work at Bank Wegelin & Co. was accompanied by attending classes at the Kaufmännische Berufsschule, St. Gallen, which I attended from the summer semester 1952 through to the winter semester 1954. So that one could remain in contact with the class-mates, I prepared a "Klassenverzeichnis 6c, 1954" - but I never kept in touch with any of my co-students, except for Sonja Schoch throughout her life; she was the cleverest in our class.
Our diploma class went by train to Vienna for a short trip, crossing the border at Feldkirch on 27th March, 1954, returning on 11th April. We saw a performance of "Aida", twice attended a "jam session" with top musicians, once went up in the evening to the "Heurigenberg", we also saw the parks of Schönnbrunn and the Stephansdom.
Vienna was still in part subject to control by the Allied Forces. The Harry Lime Theme from Karas was then very popular.
Just before Easter, after my return from Vienna, my grand-mother Nany sent a postcard from Auxonne. Henri was apparently at that time visiting our Father (in Johannesburg!), and she had the visit of the family from Asnières, mentioning also "ton filleul est bien mignon" (this was Eric, my god-child with whom I hardly ever had contact!). She was looking forward to the imminent visit of Mother.
I was partner of Erika Wegelin at the Uniball in St. Gallen - there were 3 bands in various halls. Dr Wegelin had noticed my interest in his daughter - and vice-versa - so one day he called me to his office and requested that I should stop going out with her, that "she was not for me".
I last saw Erika and bade her farewell on 28th May, 1954, when we exchanged photos. Hers was a lovely portrait shot by Pius Rast; she also gave me a book ("Neue Gedichte" by Rainer Maria Rilke, with a hand-written poem in French by Beaudelaire). We did not keep up contact.
In Transit to another world - 1954
On 24th March, Mother and I obtained a visa from the British Consulate-General in Zurich to visit South Africa, after having filled out all the necessary papers and submitted our X-rays and copies of reports from the Swiss Central Police Bureau attesting that we were not recorded in the central criminal register!
Shortly before leaving St. Gallen, mother and I bid farewell to the lady at the market where we used to buy fruit and vegetables and told her that we were going to Johannesburg; she got all excited but worried and she warned us that we would be eaten alive by roaming lions!
On 4th May, 1954, Mother crossed into France at Pontarlier to visit her own Mother in Auxonne.
On 29th May, 1954, my pass was stamped at Pontarlier Gare (Suisse) and Pontarlier (Doubs). Via Luxembourg and Brussels - where I made a stop-over to visit the town and see the famous "Manneken-Pis" fountain, over Antwerp, Essen (Belgium) on 2nd June, into Holland via Roosendaal Station, I reached Amsterdam to rejoin my Mother who had gone directly from Auxonne.
Mother and I left Amsterdam on 4th June, 1954, travelling by mv. Bloemfontein of the Holland-Afrika Line to Cape Town, via Southampton on 5th June and Las Palmas on 9th June!
Some people I remember meeting on that trip were Max and Eveline Nohr who sat at our table and who remained friends in Johannesburg, also Hermine Domisse who spoke such beautiful Afrikaans, returning from a trip abroad. The days were spent playing deck quoits, swimming in the desk pool, being lazy in a desk-chair reading or just gazing out. The crew kept us busy with fancy dress parties and dances and the traditional "crossing of the Equator" event at the pool - some small fish were slipped into your bath trunks, and you were smeared all over the body, and then thrown into the pool - you then got a certificate signed by Neptune as a memento!
Memorable too was all the delicious food we were served - 2 entrées, 3 main dishes, 2 deserts - most of the time Max and I ate it all!
I also remember my Mother playing bridge for money and winning most of the time. She also acted a few times as a fortune-teller - I remember her sitting at a table, reading tarrot cards (which she had learned as a child from gypsies in Auxonne) and also reading people's hand lines (palm reading), her head being wrapped up with one of the black and red cloths we had acquired on our stop-over in Las Palmas, looking like a gipsy, with a crystal ball in front of her - all dramatic. Most of the time I sat in, very impressed. She even told one guy who had very thick ugly fingers that he could be a murderer - I have never forgotten that.
To transport our clothes, we had a heavy cabin trunk that my Mother had used all her life travelling to the USA or Australia - it was covered from top to bottom on all sides with labels of the various shipping lines she had used and all the places she had been to. Unfortunately, this trunk was thrown away after a few years in Johannesburg, as it had collapsed - it would have been most interesting to have a photographic record of all the labels to solve some mysteries in my or my parents life.
South Africa - 1954
On 23rd June, 1954, we disembarked at Cape Town. I do not remember if my Father was there to receive us, only that I stayed in Cape Town two nights to look at the city and Hout Bay, and that my Mother carried on to Johannesburg.
Arriving in Johannesburg by train from Cape Town, I joined my parents at the Sherborne Hotel at 63 Claim Street, Johannesburg. The Hotel was full of foreigners, as this was the place most immigrants landed before they found an apartment in neighbouring Hillbrow or Berea (My Father had been staying at the Sherborne Hotel almost since his arrival in South Africa at the beginning of the year to start work at the SA Breweries Ltd., Johannesburg, as well as my brother who had been on a short reconnaissance trip during April to evaluate if he should stay in St. Gallen to finish his studies or if he also was to emigrate to South Africa).
I had to go to the Alien's Registration office in the city centre and have all my finger-prints taken - I felt like a criminal. The Aliens Registration Office in Johannesburg then confirmed on 29th June, 1954, that I had applied for registration.
On the 8th July, 1954, I received from the SA Police at Hospital Hill, Johannesburg, a permit for the importation of a (Swiss army) Browning Pistol 6.35mm with 22 rounds of ammunition which in fact belonged to my Father (we stated on the application form that the pistol was needed as security, as we expected to buy a house). Customs duty had already been paid on this, as well as on a camera, on the 23rd June 1954, at the Cape Town Port upon arrival by the the passenger boat "Bloemfontein" from Amsterdam.
One of my first tasks after arriving in Johannesburg was to look for work. Replying to an advertisement, my first interview was with KLM at Jan Smuts airport who had a vacancy for an assistant to the control clerk at the airport's control tower - but as this entailed both night and day shifts, I turned this down.
I also wrote to all Swiss companies having an office in Johannesburg to find out if they had any vacancy. I only got ONE reply, i.e. from Geigy South Africa (Pty) Ltd. I had an interview with Mr AL Collum, and though they had no immediate vacancy, they offered me a job as a book-keeper in their accounts department at their offices then situate in Kay Street, at the end of Loveday Street, starting on 19th July, 1954 (barely a month after arriving from abroad), at a salary of £45 per month. Their offices were soon moved to their new factory site at Dreyfus Street, Steeledale - as from 1st November. The firm was in fact a subsidiary of Geigy in Manchester, and not of Geigy in Basel, except indirectly. Mr Collum told me that one of the considerations for employing me was that I was the only Swiss citizen working for them!
My job consisted in particular in keeping the firm's books relating to Petty Cash controls and updating by hand the large registers recording suppliers' and customers' invoices and working out cost/profit positions of the individual transactions (stock control/costing). The work was most enjoyable, as I became aware of the various dyestuffs, pigments, insecticides (DDT and others) etc.
I also remember that I had to go on behalf of Geigy to Johannesburg from time to time, using the company's transport and driver, a Zulu, who was happy to teach me a few words in his language, such as "nyama" for "meat" (which is the only word I remember). The store manager was fluent in Fanagalo in which he communicated with the African staff.
After working a few months, I felt that I knew everything that I needed to know, and I wanted to move to another section in the department to broaden my vision. However Mr Hill, the accountant, felt that I should continue, that I was good at what I was doing. That settled it, I decided to look around and to leave eventually - I certainly did not want to do Petty Cash balancing for the rest of my life!
On 23rd July, 1954, I formally applied to surrender my French nationality. This had to be done 6 months before my next birthday.
On 6th August, 1954, my parents and I left the Sherborne Hotel and moved to 24 Majorca Court, Cavendish Road cor. Minors St., Yeoville, on the hill near the water tower. The block of apartments was owned by a Greek. My Father acquired a Ford Consul which we parked at the basement of the building.
I started taking Afrikaans lessons in the evening, at the then Technical College in Eloff Street, next to the Railway Station, Johannesburg - I carried on for about 6 lessons, realised that by thinking in German, it was easy to translate and speak Afrikaans, so I gave up - in future I relied on the book "Die Lewende Taal", and on trying to read Afrikaans newspapers or listening to the radio!
At the end of September, 1954, I hitchhiked to Durban, wanting to go to the Shaka Day Festival or the Royal Reed Dance in Stanger, as I had been told this was an event not to be missed. Unfortunately, it took me a long time as I had to get a few lifts and by the time I reached Durban, it was very late and pouring with rain, and after finally finding the Youth Hostel, I was told that it was full. I was referred to a matron of the Children's Hospital Addington and luckily I could stay in her home near the hospital overnight. It was now too late to go to Stanger and still raining, so I decided to return to Johannesburg, again hitchhiking - this time I got one direct lift with a lady and her big car. That was the last time I hitchhiked in South Africa!
I took driving lessons in Johannesburg and got my driver's licence on 22nd November, 1954 (replaced in 1978 as now incorporated in the new SA identity document). I remember doing a lot of practicing on top of the Top Star mine dump at the end of Simmonds Street and turning in Commissioner Street to the right into one-way streets!
With our car, we spent many week-ends looking at and discovering the northern suburbs of Johannesburg - Dunkeld, Illovo, Inanda, Sandhurst - lots of empty spaces in those days. My mother had hoped to live there, but Father having only a short time before retirement with no pension due to him or any capital available, did not want to take any risks. We also toured further afield, such as Basutoland (Leribe) and the Golden Gate in the Orange Free State. We also saw for the first time a performance by the mine dancers at the Old Roodepoort Gold Reef Mine and also at the Simmer & Jack Mines.
My parents and I used to play tennis at the courts which were in the public gardens at the end of End Street, off Saratoga Avenue. I remember taking lessons with a Swiss tennis player, Jost Spitzer, former Swiss tennis champion and Davis Cup player, who had recently retired and was now living in Johannesburg (he had been "Nationaler Meister der Schweiz, Herren-Einzeln, in 1945-47 and 1950-51).
I had decided to further my studies and to write the exams of The Chartered Institute of Secretaries (C.I.S.). Such a degree would enable me to work as a "Company Secretary" in any SA company. I registered with the Rapid Results College in Durban and followed their correspondence courses - large green booklets they were, one for each subject. Interim papers had to be sent to Durban for correction. I also attended back-up lessons given by a Mr Pelkowitz in Johannesburg's city centre, near the City Hall.
On 28th January, 1955, I was 21 years old - my Mother had suggested I hold a party at the flat at about that time and that I invite some friends - alas, I remember this to be a great flop. Not only did I hardly know anybody as yet but, besides a lot of classical music, I only had a limited number of shellac records of mainly rumba, samba, tango and mambo which I had brought with me from Switzerland. I also had one or two more modern records, one being Bill Haley's "Rock around the clock" which my guests kept on playing over and over again! I never organised another party, as far as I remember! One of the girls was chubby Marianne Berger, whose father - Etienne Berger - was as missionary of the Paris Evangelical Mission Society (PEMS) their envoy to Barotseland (Western Zambia) with the assignment of ministering to the Lozi migrant workers in the mines around Johannesburg, living at Marathon Street, Malvern. She often had parties at her home, a very young groping crowd. I remember her dance dress being weighed down with rings, a bit old-fashioned. Another girl was from an English family living in Sandhurst; they had a huge garden, beautiful trees, and a large "volière" plus magnificent peacocks roaming about the garden - very impressive (I visited her once at home, but we never "clicked"). I never remembered who else was at that party ...
On 10th February, 1955, I was issued SA Immigration Permit 9416, a green card, which on the 31st October, 1955 was endorsed that I could only work as a student or apprentice for the next three years!
Finally, on 1st June, 1955,I was given my "Registration Certificate No. 123716", a brown 24 pp. booklet issued by the Aliens Registration Office in Pretoria on 27th April, 1955, in which I was recorded as a "student" and which was used to record all my moves in and out of South Africa or all the jobs for the next few years!
At the beginning of the year, I was introduced to the French Bank of Southern Africa, 50 Marshall Street, Johannesburg. Thus on 10th March, 1955, I gave notice to Geigy SA for the end of the current month, and stated in my letter of resignation ".... having had the opportunity of finding a new employment with better chances for my future". I started at the new place on 1st April, 1955.
During the summer holidays, Henri travelled by train from St. Gallen to Cannes via Milano and Ventimiglia, to visit Suzanne Genevois; Jean Brun was not there, only Jean-Jean with whom he played a lot of table tennis and every day went swimming in the Mediterranean.
By 6th September, 1955, I had surrendered my French nationality formally (I was French by birth and by having a French mother, and Swiss on the Father's side). I notified the Ministry of Armed Forces, Paris, accordingly on 22nd September, 1955, that the procedure had been recorded under ref. 11481 DX54.
At the same time, our parents organised the same procedure with Henri.
Not far from the bank was my tailor where I had my suits made out of heavy cloth, prompted by my Mother who thought that I could not be buying ready-made suits - they were called "Barselaar & Taylor" or "Barselaar & Côtier", two elderly gentlemen from the old school! Over the years, I had about 3 suits made!
I was employed as an Assistant-Accountant in the bank's Securities Department, from that date until I resigned. I remember being interviewed by the Bank's MD, Mr. P. Dumant; I remember also that I worked in the Securities Department, mainly writing up the share register, i.e. recording all share transactions of the bank and its clients (by hand in thick ledgers as was done in those days), this for a monthly salary of £60 a month. After a while, feeling I knew all there was to know in this sector, I wanted to move onto other departments, but this was of no interest to my employers, so I resigned on 20th November per end of the year.
Meanwhile I held discussions with the owner of W. Gygax (Pty) Ltd., Johannesburg, who on 19th November, 1955, employed me as as Secretary (typing and short-hand in French, English and German ) as from the following month.
In December, 1955, I sat in Johannesburg for the Intermediate Examination of the C.I.S., which I successfully passed. The subjects covered were Economics, Accountancy, Mercantile Law, English, Secretarial Practice and SA Company Law, all papers being 3-hour papers. I was included in the Institute's December 1955 international pass list.
By now we had made contact with a number of Swiss friends, Mr Berchtold, the Hon. Swiss Consul, Mr Minder who had a small watch-making workshop in the city centre, Mr Béguin and his wife, Mr Maurice Thévenaz (MD of Suchard SA), his wife and his daughter Jocelyne, Mr Mrs Couleru who built up from scratch a small business making nuts and bolts (he expanded so much, that he needed finance to get new machinery, so he approached my Father for help who, being involved with the Project Management of SA Breweries, was used to work in another dimension and thus predicted that it would not pay - in the end Mr Couleru had a staff of 15 and no children, so the foreman got it all for nothing).
I also remember Mr and Mrs Lüthi from that period (years later on she worked for us at the Gallery 101 boutique). Another Swiss friend was old Mrs Ferguson who was teaching me Portuguese. She lived at the bottom of Cavendish Road and once lent me a book which I could never return as she had died in the meantime (I still hoped I would one day go to South America, and Portuguese would be a useful language in addition to the Spanish I had learned in St. Gallen over a number of years).
We used to visit the Thévenaz family at their home in Observatory and play "boules" ("pétanque") on their lawn, together with other family friends.
We saw for the second time a mine dancers performance in one of the gold mines south of Johannesburg.
My parents and I would often go to the Swiss Club which was then in Kew, off Louis Botha Avenue, to play some skittles and meet friends, to play tennis and to enjoy the 1st August festivities.
In about September, 1955, we also went to the Kruger National Park for the first time (Henri having joined us from Switzerland during his school break). We travelled via Pietersburg (lots of Candelabra trees in the area), stayed en route at a hotel in Louis Trichardt then proceeded to the Kruger Park, staying as much as possible in AA huts, i.e. huts that had been specially put up and maintained by the Automobile Association for its members (Father being a member). We always started at the northernmost gate, moving down South. Our return was over Barberton via Swaziland and the East Rand.

We also travelled at other times with Henri to the Hartebeespoortdam, Brits and beyond, and on another weekend, we drove to the Mapoche (Ndebele) Village north of Pretoria, westwards. I remember that it was no easy task to find the way over bumpy dusty roads.
Shortly after this, Henri was to return to St. Gallen. He remembers that Father had missed the opportunity to book a standard return flight in time for the beginning of school, so he had to pay a surcharge for a "couchette" place in the Swissair DC-6B!
Once we drove as far as The Sand River Monument near Allemanskraal, where I picked up most unusual and heavy agate pebbles which we kept for a long time.
On 16th October, 1955, Father travelled for the SA Breweries to Ndola, returning to Johannesburg on the 14th November, 1955.
Some time during the year I acquired my first piece of property in South Africa, Ptn. 24, Cons. Erf 758 Bryanston, on a deed of sale, paying off £23 per month, the peri-urban valuation being £870. Bryanston was being developed by SA Townships, Mining & Finance Corp. Ltd., a property company of Anglo American Corporation. This piece of land was on the south side of the main cross roads in Bryanston, and lying just near a site reserved for a Church building.
My tax assessment for 1955 reflected an assessed income of R1238, on which I had paid R77!
Walter Gygax, a Swiss citizen, dealt as "quality food exporters" under the name of W. Gygax (Pty) Ltd., concentrating on exports by air to the African Hinterland. I started work on the 2nd January, 1956, at the initial salary of £75 per month, with 3 weeks holidays due after the first 12 months. This work was most interesting and varied, I had to go to the early morning market in Newtown to choose fresh fruit and vegetables from our main market agent, a Portuguese from Madeira, which were then to be air-freighted to the Belgian Congo, French Equatorial Africa, Nigeria, Gold Coast, Madagascar or other territories. We also used to airfreight "witlof" which in those days was only produced by one farmer in the Volksrust area. My work also involved setting up price-lists and corresponding with both SA food suppliers and customers. I was given Wednesday afternoons free, to be able to do my studies, and to compensate for overtime.
We also exported day-old chicken by air; from Cape Town we shipped canned fruit, vegetables and fish.
In May or June, I sat for Section B of the final examination of the C.I.S., writing papers in Economics, Mercantile Law and Company Law. I only reached level A in these 3 subjects, i.e. I obtained between 75% and 99% of the required minimum mark. Thus I would have to rewrite both sections of the final examinations at some future date. This never materialised, as I now did not have sufficient time any longer to both study intensively and work full-time in the export field. I was very cross that my friend Max Nohr got through the economics paper, as I considered that economics was a great field to blabla at which I am not good, but he was! He later got a job with Total Oil SA.
In 1956, my brother Henri successfully wrote the Swiss Matura (Type C) in St. Gallen.
Sometimes in the first part of 1956, my brother Henri visited on his own Suzanne Genevois in Cannes and enjoyed the company of Jean-Jean Brun. When he packed his suitcase to go back, he had included a train toy of Jean-Jean - Suzanne wanted to repack the suitcase properly and noticed this; she was very disappointed!
My godmother Suzanne sent me a photo of herself, Jean Marcel Brun and their son taken in April 1956 on a visit in Venice, Italy.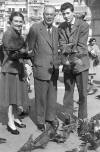 Suzanne Genevois with husband Jean Marcel Brun and their son Jean-Jean, April 1956.
On 8th May, 1956, Mother got a return visa - she promptly left for Switzerland to visit her gynaecologist in Basel; according to her pass, she crossed St. Margrethen SG border post to Austria on 20th May and 3rd July, 1956 (she used to go to her dressmaker across the border when we lived in St. Gallen); she also visited her own mother and Pépère in France, crossing Pontarlier on 11th July, 1956, then Frasne on 6th August, Pontarlier on 28th August and 9th September, 1956. She then came back to Johannesburg in October with my brother Henri who had to do his 9-months' "Vorstudium-Praktikum ETH" early the following year, which he did at the First Electric Corporation in Knights on the East Rand. His remaining belongings - skis and luggage - were collected from his landlady, Mrs Schildknecht, at St. Leonhardstr. 17, and stored with Guyer, St. Gallen, for one year, as from 17th September, 1956. Uncle Charles Gmür, Paul and Marie-Katrine and children were at Kloten airport to send them off.
From a letter I wrote then to my mother in France, it seems that I started having problems with Gygax, not only because he had cancelled in writing my free Wednesday afternoons, without compensation, but also because I felt tired of everything and morally down and restless. I was considering having to give up my studies one way or another, my chances for the future looked limited. I stated "j'espère que la dissatisfaction que j'éprouve de mon travail à chaque nouvelle place après un certain temps cessera une fois"!
Luckily I was sometimes seeing our friends, the Nohr's, particularly Eveline over lunch, but as to "les autres jeunes gents d'ici, c'est peine perdue de vouloir les fréquenter"! I remember going to the Jewish Guild then in von Brandis Street, off Jeppe Street, near the GPO, with Max Nohr, to see a play in Yiddish - I only understood about 20%.
At that time, I was also considering building up as a side-line other long-term avenues, such as agencies that would help Father after his retirement in 1961. I remember having contacts with stainless steel works, in particular Mitsubishi, obtaining samples and quotes, and submitting them to potential South African importers. I remember in particular various talks with Alers H. Hankey Ltd.; not only did some of these firms not want to deal with Japanese suppliers ("we fought them in the war"), but the sizes they offered were metric and not in feet like their competitors in England or the USA.
The family went to the Kruger Park, via Punda Malia, travelling in a Ford Consul covered in a reddish dust, inside and outside. The linked image shows the plaque between Satara and Tshokwane and refers to the Trichardt trek that passed through the area in 1838, as it looked in 2008.
Sometimes we also drove to the Hartebeespoortdam, over the dam wall and beyond towards Brits.
I joined the Johannesburg Hiking Club and went on a number of hikes over the next few months, towards the Broederstroom area, but as there were hardly any young people of my age, I gave up by the following year. At about this time, I also joined the 1st Rosebank Scouts as a rover and went to many of their meetings. However, as I had never been a cub or scout before, it was all a new world to me, and I had to keep on watching over my shoulder how everything was done or said, and of course I had to get a rover's uniform. But I did not make any friends, and after a while I gave up attending their functions.
Our flat at Majorca Court used to be cleaned by Felix Dube, a Rhodesian from Fort Victoria who was employed by the landlord (he later helped at the Queen's Hall Art Gallery, and stayed with Mother in Gardens till about 1969, when he returned to his home to die, as he had tuberculosis and coughed a lot).
During the year, we went on another trip to the Mapoche Village northwest of Pretoria, this time making some nice shots with a colour film. This was the last time I visited this village - the Ndebele demanded money so that we could take shots of them! I remember the wind blowing Mother's red straw hat towards the people; she did not get it back!
My tax assessment for 1956 reflected an assessed income of R1802, on which I had paid R139!
In January, 1957, Henri started his job at First Electric Corporation at Knights on the East Rand, daily travelling by bus to the Johannesburg Railway Station and with the SAR to Knights and back. The work consisted mainly of the assembly of electric motors and transformers. During week-ends, the family went sight-seeing and playing tennis at Gillooly's Farm in Rivonia, a tea-garden. We also often stopped at other tea-gardens, including Shamrock, never forgetting the delicious scones and crumpets.
No bonus having ever been paid out and after repeated fruitless discussions about a salary increase ("we shall consider it next year if the company's profits allow it") and because the owner's son had now also joined the business, I decided to leave Walter Gygax's firm per 30th April, 1957.
Mr Walter Zehnder, representing the Union Bank of Switzerland in Johannesburg with offices in "Unitas Buildings", Marshall Street, Johannesburg, suggested I run the Johannesburg broking agency for one of his important overseas clients, a certain Baron von ..... (who inter alia owned large tracts of land in Brazil), from a nearby office in the same building, on a trial basis. The work was unpaid, I depended on the small brokerage I would get on any deals, but all expenses, such as rent, telephones and faxes were to be for my account. This sounded worth a try, the work consisted of getting quotes from abroad for bulk shipments of commodities and placing these offers with interested parties or potential clients in South Africa, such as Lever Bros., Durban, and the like. The bills for telegrams soon mounted, and I told Mr. Zehnder within a short time of about two weeks that I was not interested in this venture.
So, meanwhile, I decided to go into exports myself, and I set up registering a Company of my own called Agimpex (Pty) Ltd., with a share capital of £3000 in £1 shares, fully issued (AGIMPEX = agencies, import, export). Mr. A.C. Decoppet, one of our family friends, agreed to invest some capital in this venture (1400 shares) and to become an alternate director of the Company. I remember that he would from time to time come to my office which was now at 33, 4th floor, Unitas, to see if he could help in any way. In my name were 1450 shares (cert. no. 2+6), plus another 150 shares I held personally. My Mother was appointed Company Secretary.
As my restrictive agreement of employ with W. Gygax (Pty) Ltd. had a restraint of trade clause, I could not carry on a similar business in the Johannesburg municipal area for a while, I think for two years. So I just moved to 159 Meyer Street, Primrose near Germiston, as from 15th May, 1957. My mother helped me from 11th June most days; we had to travel by train from Johannesburg to Germiston, then walk a stretch to the office. Our neighbour was a Mr Tucker, a financial and legal advisor.
I could build on the experiences and information I had gained with Gygax, and managed to acquire some clients. One in particular I remember, for it cost me a lot of money. An order had been received by a client in Madagascar for a consignment of grapes which were consigned by ship. However, there were problems with the irrevocable Letter of Credit or the client had not honoured payment on the presentation of the sight-draft presented by my bank, secured by the original consignment note, so the grapes just rotted away at the harbour.
On 26th June, 1957, I applied at the UK Passport office, Cape Town, for a visa for Nigeria and Ghana (called the Gold Coast until 5th March, 1957), which I had to collect when next in Leopoldville. On 16th July, I obtained a visa for French Equatorial Africa from the Consulate of France in Johannesburg, and the same day one for the Belgian Congo / Ruanda-Urundi from the Belgian Consulate, Johannesburg.
On 18th July, I left for my first trip to Central and West Africa. Various customs entries in my Swiss passport reflect that I landed in Leopoldville on 18th July, crossed over the Congo to Brazzaville on 24th July, and back at Leopoldville Beach on 28th July, left Leopoldville on the 8th August, arrived in Accra (Ghana) on Friday 9th August, was in Takoradi (Ghana) in between, left Accra for Lagos (Ikeja) in Nigeria on Saturday, 24th August, left from Lagos via Accra for Kano on 29th August, departed from there the next day and was back in Johannesburg on 31st August, 1957. I had to collect my visas for Nigeria and Ghana from the British Consulate-General in Leopoldville which was done on the 3rd (for Nigeria), 7th and 8th August (Ghana direct and Nigeria in transit).
In Leopoldville, I called on big firms like PROFRIGO and SEDEC, a Unilever company. I remember walking through a big office with many clerks, all speaking English (!) and being black people, not a white person in sight. While the purchases manager looked at my offers, a secretary walked through the door behind him into another office - there I got a glimpse of a white person, normally out of sight to the world, probably Unilever's representative! I also remember calling on a large store near the main market, run by a Portuguese, Mr Costa. He was importing dried salt shark from South Africa. He invited me to have lunch at his home, where he showed me his vast collection of African masks and artifacts from the area which stretched over two floors - unfortunately I had not much understanding of this in those days, I just knew that this was an important collection which however did not appeal to me.
Something that stuck in my mind all the years were the advertising posters for KLIM, a substitute milk product well introduced in the Congo.
I stayed at the Hotel Regina and remember the big ceiling fans rotating everywhere! To cross over the Congo River to Brazzaville, one had to take a large barge which was always packed with colourful and noisy people, carrying their wares to or from the market to the other side of the very broad river. Some of the people were very pretty, I remember in particular a stunning young woman, accompanying a white settler, the only white person I ever saw on these barges. On the Brazzaville side I used to have a "bière-panache" to cool down, or a meal at "Le Relais UTA". I remember buying two "Brazza" pictures of thin, colourful stylised African people painted on black paper, which were later to be part of the contents of my flat in Cape Town!
While I was in Accra, I got a telegram from an Estate agent in Johannesburg, offering me a good profit on my property in Bryanston. I accepted and the deal for the equivalent of R2600 went through in September 1957, the purchaser being a certain B.G.A. Lund. However, it took another year before I got the actual cash. The property had to be simultaneously transferred into my name and again into the new purchaser's name, which only happened early 1958.
I remember that at the Takoradi Hotel I slept under a wide mosquito net hanging from the ceiling - it was far too hot for sheets. There are beautiful sandy beaches on both sides of Takoradi, but the sea is treacherous near the harbour as the waves take you far out. I shall never forget the physical effort it was to get back, trying to break over the waves that kept on washing me back to sea. I remember doing rather a lot of praying to see me through this - I shouted for help, waved my hands in the air, but the 3 or 4 people I could see at a distance on the beach did not notice or hear me! I just had to remind myself not to panic, but to keep calm and beat the waves with force. Luckily there was no shark around taking a bite out of me ...
One of the firms I visited in Accra was the Union Trading Co. (UTC). The firm was owned by the Basler Mission (I did not know this then), but even there I had no hope to do any business, even by cutting my brokerage from 5% to half. They got all they needed either directly from the manufacturers or at a lower cost from other sources in Europe. I also visited A.G. Leventis and smaller firms, many of which were owned by Lebanese traders, introduced myself and left my various price-lists.
I also remember that over a week-end, I went to have a beer-shandy at some large open-air restaurant. The place being full, I was invited to sit at a table with some nice African couples, and I joined in their conversation. At that time, "Highlife" was the craze and I was prompted to dance with one of the ladies from the table, being shown what steps to do.
I stayed a few days in Accra (I do not remember in which hotel). It was difficult to make appointments, one had to come back for another meeting, usually on another day. I did land a few smaller orders which had to be confirmed on my return in South Africa.
I shall not forget the long trip from the Lagos Airport to the city - one could only travel by taxi, and that cost a fortune. I do not remember which firms I visited in Lagos besides Leventis, but I remember the street traders - hundreds of stalls, mostly run by big colourfully dressed Mamas who kept their money hidden in their bra!
Boarding the plane to Kano, I had a window seat on the right side behind the wing. The engines already on the go to move to the airstrip, I noticed a number of pieces of luggage below on the tarmac. To my horror, I recognised my very unique luggage in aluminium. I called the stewardess' attention - the engines were stopped - all the luggage for Kano had been left outside, including my special piece! So we left with half an hour's delay!
Kano was really hot, I had to walk long distances to visit the few potential clients, and I remember that I had to put my handkerchief onto my head to avoid having a stroke - you could almost fry an egg on your head, within seconds. Whenever there was a tree, giving welcoming shade, I rushed to it before confronting the next open stretch!
I don't remember this trip as very successful venture, not in the short-term. As to the cultural impact on me, it left no marks. All I was interested in those days was to get orders. Back in South Africa, it was a matter of "back to business".
Our friends, Evelyne and Max Nohr, were still in South Africa, as a picture taken at the Germiston Lake shows.
During August, 1957, my brother Henri and I went to Cape Town by car, a Ford Consul, TJ 12020. There we stayed in the same hotel I had stayed on my arrival in 1954. While I was attending to business appointments for Gygax, Henri, as he remembers, went with a Swiss family friend, Mr A.C. Decoppet, who spoke Japanese to crew members of a Japanese tanker at the docks, which duly impressed him. We did some sight-seeing, such as visiting the Kirstenbosch Gardens.
On the way back, driving through the night, we hit a Shepherd dog kept on a chain leash by an African cyclist with no lights, riding on the left. The dog was walking in the middle of the road, an oncoming car blinded him just at that moment. Though I did not drive then, it was a big shock which I have never forgotten, particularly as we did not stop for long - Henri had spoken in Afrikaans blaming him for keeping the dog in the middle of the road. The major damage to the car was caused by the chain.
Our parents moved from 24 Majorca Court to the much larger flat at 33 Majorca Court, Cavendish Road, Yeoville, Johannesburg, on the top floor of the building, per 2nd September, 1957.
Before brother Henri returned in September, 1957, to Zurich to start with his studies at the ETH, the whole family went to the Kruger National Park for a few days, starting at Louis Trichardt down to the South - none of the roads in the Park had yet been tarred!
We also attended one of the tribal mine dances held at the Old Roodepoort Gold Reef Mine near Johannesburg, and enjoyed walking at some other time around the stunning "The Wilds" gardens on the way to Houghton, in full bloom.
Henri(ly) sent us a card from Athens dated 16th September, 1957 (addressed to Agimpex Germiston), mentioning all the temptations he had been confronted with!
On 26th November, Father travelled for the SA Breweries to Rhodesia and returned to Johannesburg on 7th December, 1957. Shortly thereafter he had to go back, returning from Rhodesia on 19th December, 1957.
On 17th December, 1957, my god-mother Suzanne Genevois sent me a letter from Cannes, mentioning that she had deposited another ffrs 5000 to my savings account, bringing the total up to ffrs 30000 (ffrs before devaluation on 1st January, 1960, when 2 noughts were knocked off!).
The amended audited accounts of Agimpex (Pty) Ltd. for the first period from 4th June, 1957 to 30th June, 1957, show only R892 in sales and a net loss of R422.
My personal tax assessment for 1957 reflected an assessed income of R1558, on which I had paid R102!
My brother Henri sent us a b/white photo which was taken on the occasion of his 20th birthday, the 27th April, in Zurich, together with a "voice letter".
I had intended to do another trip to Ghana and Nigeria and thus applied for and got a visa for Ghana issued by the High Commissioner of the UK in Cape Town, as well as one for Nigeria, both issued on 28th March, 1958. However, one day I got a call from Mrs J. Ceronio from Kallos' Johannesburg office to meet Mr Etienne Kallos in his Johannesburg office, the most important exporter of SA food products to Central and West Africa, holding exclusive agency rights for many Boards and producers. This would result in a crucial change in my life at that time.
A minute of meeting of shareholders and directors of Agimpex (Pty) Ltd. held on 29th May, 1958 reflects:
that Kallos & Son (Pty) Ltd. acquired 1400 shares of £1 each in Agimpex (Pty) Ltd. held by Mr. A.C. Decoppet and 150 shares held in my name;

that Mr. A.C. Decoppet was resigning as Alternate Director, to be replaced by Dr. George Lorandos in his place,

that my Mother resigned as Secretary and Public Officer, and that the office be moved to Uniwest House, 9 Simmonds Street, Johannesburg.
As Kallos only paid £1200 for the 1550 shares, I had to compensate Mr Decoppet's loss in time.
Simultaneously, on 30th May, 1958, I entered into an agreement of employment with Etienne Kallos on behalf of Kallos & Son (Pty) Ltd., Johannesburg / Cape Town. This also allowed me to continue to remain a director of Agimpex (Pty) Ltd.. My salary was to be £150 p.m., plus an annual bonus of £360 payable annually at the end of the financial year, or pro-rata if I left the employ before a completed year, plus all documented and approved travelling and entertainment expenses. I was entitled to 3 weeks leave annually on completion of every 12 months of service.
I first worked at Kallos' Johannesburg office under Mrs J. Ceronio, then moved to Cape Town on 25th June, 1958, to work at the office there the next day.
First I lived at the Raemark Hotel in Sea Point, a boarding house with lots of young people (26th June till 15th July, 1958). I remember in particular going with some of the younger chaps and girls for early morning jogs along the ocean road towards Mouille Point and back, all ready for breakfast. One of the girls I knew, a nurse at the Groote Schuur Hospital, invited me to some of her friends in Observatory. I also went a few times with their group to picnic at Sandy Bay beyond Llandudno - one could not swim, as the water there is too cold.
I soon bought a beautiful ruby red Renault Dauphine from the Cape Town agents H. Farber, a bit like this image, but registered as CA 15906:
I would often park on Beach Road, opposite La Perla, near the "Rotunda" swimming pool, staying in my car - with or without company - watching the sunset and all the people walking by. At that time I did a lot of short trips in the Cape area, whenever possible. One of the girls I met, I do not remember where and how, was a nice German lass, whose name I do not even remember. However, thanks to her, I have a series of photos from that time. I also remember that when I had to travel to Central and West Africa, we parted company and never met again! I was always too busy.
I soon found a flat of my own and moved to 32 Trianon at Avenue Marseilles, Sea Point, up on the hillside. I stayed there from 15th July, 1958, for just over a year. This was the first time I lived on my own, in a large one-room flat which I had to furnish, mainly with my personal belongings from Johannesburg.
On 7th November, 1958, a visa to visit Angola was issued by the Consulate-General, Cape Town, and on the same day, I got a visa to visit French Equatorial Africa, issued by the Consulate of France in Cape Town. I never travelled to Angola, though. On 10th November, 1958, I got my visa for the Belgian Congo, issued by the Consul-General of Belgium in Cape Town.
On 14th November, I travelled for Etienne Kallos from Jan Smuts airport, Johannesburg, returning on 25th December, 1958. My passport stamps and other records show that I was at Brazzaville (French Congo) on 14th and 15th November, crossing the Congo River for Leopoldville on 15th November. I then visited Stanleyville, returned to Leopoldville the next day, and on 28th November I crossed the Congo River for Brazzaville, where I took a small plane that took me to Pointe-Noire, Port Gentil, Libreville, Yaoundé and Douala (Cameroons) (3rd December), Fort Lamy (Tchad) 5th December, then via Bangui (Central African Republic) back to Brazzaville on 10th December, crossing the Congo to Leopoldville the same day. I left Leopoldville on the 15th December, crossing the river for the last time to catch the plane in Brazzaville that took me straight to Johannesburg the same day.
In Leopoldville, I stayed at the Hotel Regina which I knew from the previous trip. I later had problems with Kallos when submitting my accounts for refund of Petty Cash expenses - he refused to pay my costs for daily newspaper in Leopoldville! I called on the various clients Kallos dealt with, and had to make a flight to Stanleyville (Kisangani) in the Eastern part of the country - a long trip with unending vistas of the jungle, the Congo and its affluent rivers. Covering the landing strip was not tarmac but metal plates with holes and grass growing in-between, as used during WW2! It was so hot and humid, sweat just ran down my back, and I had to go back to the hotel over lunch to change my shirt.
The plane from Brazzaville to Pointe-Noire was a converted meat carrier piloted by a hairy black pilot in beige shorts. The plane stank of meat that had just been brought from Fort Lamy to Brazzaville. There were only a few canvas seats with metal frames which could easily be unscrewed, a bit like the old 2CVs. I stayed in Pointe-Noire from 28th to 29th November, the next day in Port Gentil, then via a stop-over at Lambaréné (the short airstrip was on a flat hilltop with ravines on either side), I carried on to Libreville, staying from 30th November to 1st December. I remember this place clearly, for at night I went swimming in the warm sea, it was pitch dark, just a few lights from the nearby hotel reflecting in the water - it was eerie and I soon got out and back to the hotel. Luckily the sharks were sleeping at that time!
A client in Pointe Noire had a 2CV and he took pride in showing me around in his bumpy car. We even got stuck in a ditch on a dirt road in the forest, but it was no problem shaking the car up and down and sideways - it was so light.
A Dakota DC4 flew then to Yaoundé, arriving when it was getting dark - there were hundreds of people greeting the plane at the airport. It was the first time such a big plane had landed there! Soon it took off and carried on to Douala where I stayed overnight. The next day, after calling on the few clients Kallos had there, it was off to Fort Lamy in the Tchad region. As we left Douala, the weather was stormy, the plane kept on swaying up and down, anybody not used to this was wondering what was coming next. As the active volcano Mount Cameroon (over 4000m) lies immediately to the NW of this city, there are often a lot of clouds over the area, I was told.
In Fort Lamy, our main client invited me for lunch to his home to meet his family; we had fresh fish and seafood which was brought in from France on a daily basis, to me an absurd idea, but this is how the successful colonists and traders lived! I was also shown the near-by river Chari. I then left for Bangui, the capital of the Central African Republic, to visit some clients there. Then it was off to Brazzaville.
Flying back from Brazzaville to Johannesburg on 15th December, I started to become dizzy with a rising temperature; I had to ask for help from the stewardess. She gave me some quinine tablets. No sooner was I in Johannesburg staying at my parents place to recover, I was diagnosed to have caught a non-recurring form of malaria.
Then it was back to the Johannesburg office and Cape Town.
I kept in touch with my mother in Johannesburg by telephoning her on the same day, once a week, just after mid-night. In those days one still had to ask to be connected to an overland telephone line, so one became friendly with the telephone operator and got to know their voice, which meant that often a call would go through at no cost, or for a longer period. I never wrote to my mother, there was no time for that!
Etienne Kallos was a very kind, but hard person to work for, demanding everything from his export manager! I did not mind, I enjoyed the work thoroughly. I worked very long hours, well into the night and over most week-ends when I had to supervise the loading of goods onto the vessels at the harbour, both canned, fresh and frozen goods. I also had to call on suppliers, such as the Lurie Bros, where I saw how the chicken were prepared. Many a time Kallos would invite me for lunch or supper in town, so that we could talk about the past events and the next day. I remember he always had a pile of multi-coloured pills that he had to swallow, which his friend Dr. G. Lorandos had prescribed - I am sure not all of them were real medication - Kallos was a hypochondriac. I was also invited a few times to his beautiful flat in Sea Point and had supper with him and his petite second Greek wife.
Kallos, who worked as a young man in the Belgian Congo, co-owned a small cargo vessel, the mv. Marinette, which plied between Cape Town and Matadi, the Belgian Congo port, every two weeks.
One of the side-benefits of working for Kallos was the possibility of occasionally getting at cost an interesting variety of mainly canned fruit, vegetables or jams, through his office.
Kallos met Dr. Carel de Wet, MP for Vanderbijlpark and Minister of Health, and appointed him to become a director of his company, Kallos & Son (Pty) Ltd.! A few times I had to drive the MP to the Cape Town airport in Kallos' car, after having put a box of goodies in the booth. Kallos did not employ black or coloured staff at the office (there were virtually no black people living in Cape Town at that time), I often functioned as "tea boy", or driver.
Soon after my arrival, Kallos employed an English girl as Secretary - I fell for her and started taking her out; this affected my work concentration, and one day Kallos told me that either I had to leave or I had to personally give her notice to leave - shame, she had to go! I had become so infatuated with her that my Mother decided that she needed a holiday in Cape Town, staying at a small beach hotel at Sea Point, to break my relationship with this lady, who in any case was about 3 years my senior.
Occasionally, Kallos' son Achilles would come to the office to work - he had been SA champion body builder - all muscles. He was very generous in giving me tips about life and recommendations to lonely ladies, usually nurses he had met! He also had a sister, maybe two, whom I had met through the current Mrs Kallos - I did not fancy them, much to Mrs Kallos' regrets - she kept on saying "don't you like them, you know they would bring in a big dowry" - their mother was a Leventis, Kallos' first wife.
The amended audited accounts of Agimpex (Pty) Ltd. for the period from 1st July, 1957 to 30th June, 1958, showed R29196 in sales and a net loss of R1212. Bad debts had been incurred with four clients in Accra, Majunga, Dzaoudi (Mazotte). I still held 48.3% of the shares and was a director, but I had no control about the affairs or what went through the books.
My tax assessment for 1958 reflected an assessed income of R906, on which I had paid R36!
Kallos was most of the time speaking Greek on the phone; I wanted to know what it was all about, which got me to start taking Greek lessons with the rather old Priest of the Greek Orthodox Church of Cape Town. Unfortunately, he could hardly speak a word of English, having just arrived in the country, but he gave me an illustrated book used to teach the language to children. I went about three times to see him, learned the basics of the Greek alphabet and some words like "parakalo", "bouturon", "kreas" - but it was too complicated to just know what the boss was talking about, so I gave up.
During January, problems arose about the handling of the affairs, signing of cheques and appointment of directors of Agimpex (Pty) Ltd.; the AGM was to be held on 18th February in Johannesburg, but then postponed. I had appointed my Father to be my proxy as I was in Cape Town.
On 6th March, 1959, I confirmed the sale of the remaining 1450 £1 shares in Agimpex (Pty) Ltd. to Kallos & Son (Pty) Ltd., Cape Town, for £1250, which was paid into my Nedbank account on 14th March.
In March, 1959, Henri hitch-hiked from Zurich to Barcelona via Geneva, Lyon in one day - on 1st April, 1959, he sent a card from Barcelona, having just seen Palma, Madrid and Bilbâo. He was going to take a ship to Marseille on the 7th and then would hitch-hike to Auxonne to visit Nany.
During May, 1959, I became a member of The Automobile Association of South Africa (AA) which was to give me continuous service for the next 30 years or even longer.
On 15th May, 1959, the agreement of employment with Kallos & Son (Pty) Ltd. was amended, whereby the agreement was fixed to 30th June, 1959, thereafter for an indefinite period, subject to one month's notice either way, and the salary was fixed at £150 p.m., without payment for overtime in SA or abroad.
Thus, the formerly guaranteed bonus fell away. Mr Kallos felt that he had promised too much previously. A letter my Father wrote on 19th May, 1959, stated that "es ist sehr wohl möglich, dass Dein Salär zu hoch war - aber die Leute sind zu stolz und wollen Dir nicht sagen, dass Deine Ansprüche zu hoch sind. Aber eine Unterredung schadet nichts".
The situation with Kallos became untenable, constantly bickering and shouting, even at my Mother and Father, whenever they met.
I had now to consider other options, if I left Kallos. One of them had to do with working for Bardahl SA (lubricants) - I had met a Mr de Jouy in Cape Town. The other was to work for Bächler from Pall Mall Delicatessen in Johannesburg. My Father felt that "Bächler ist nichts für Dich - Du kannst doch nicht am Ladentisch oder an der Kasse stehen - jede Arbeit is ehrenwert, aber manchmal kann man sie doch nicht annehmen". (Yet, Bächler did well with his business, in years to come he even acquired a citrus farm near Rustenburg which we would twice visit!)
In that letter, my Father also mentioned he would reach official pension age on 31st December, 1959, but as he was not getting a pension, there was a chance that he could work a bit longer. He also mentioned that I should not worry about my brother Henri in Switzerland, that he could apply for stipends, and that cousin Paul Gmür would not drop him.
I had mentioned to Kallos that I was considering going on holidays to Switzerland during June, so he suggested that I could possibly call on various people in Europe and Africa on the way back (all on my account). He gave me two letters of introduction, dated 29th May, 1959, one being for AG Leventis in Paris, the other for G Keralakis, Leventis, Manchester, and he drew up a list of all the people I should see on the way in Lausanne, Paris, London, Manchester, Liverpool, Accra, Takoradi, Sekondi, Lagos, Freetown, Monrovia!!!
According to my pass, I got a single journey re-entry visa on 2nd June, 1959. I left for Europe, first stopping over at Nice, most likely calling on my Godmother in CANNES. On 11th June, I carried on from Nice to Zurich with Swissair and booked in at the Franziskaner Hotel at Niederdorfstrasse off Stüssihof which my friend Sonja had organised.
I met my brother in Zurich then studying at the ETH. He showed me around his haunts in the Niederdorf, as well as his room.
I also saw my school and pen friend Sonja Schoch over a cup of coffee at the Café Select on the Limmatquai. I had been writing to her over many years, and in my mind I was going to ask her to marry me, but I was never quite ready to ask her. When she wrote that she had met Arthur in the same hospital room, both recuperating, and that she was going to marry him, I thought that I might change her mind - hence my trip - of course to no avail!
I called on my cousin, Dr. Paul Gmür, at his office in Löwenstrasse. I mentioned to him that I had just drunk a delicious beverage, RIVELLA, for the first time. No problem, Paul being on the Board of Directors of Rivella International in Rothrist, or its President, introduced me to and arranged a meeting with Jean Barth in Rothrist whom I met shortly thereafter.
I also placed an advert in either the TA or NZZ, Zurich, seeking to represent Swiss firms in South Africa, and I eagerly awaiting the many replies that would follow (these included agency offers from HACO in Gümlingen, also for Swiss tents, Maestrani chocolate powder, bottle openers, glue manufacturers, condoms etc., often accompanied by samples)!
I also visited St. Gallen and the surrounding area and took some slides. Another excursion was a boat trip on Lake Zurich - some of my slides show the "Gondelbahn" in Zurich (it crossed Lake Zurich from one lakeside to the other between 1959 and 1966 and had been built on the occasion of the G59 (Schweizerische Gartenbauausstellung 1959).
The effect of this trip was that I decided in Switzerland not to carry on with my travelling programme for Kallos which would have started in Lausanne, all at my own costs!
On the way back to South Africa, I stayed over in Athens at the Hotel George V. from 25th June, leaving again on 26th June, 1959, travelling from there with Olympic Airways to Johannesburg, flying along the Nile River and East Africa.
Going to and on the way back from Switzerland, I spent a few days with my parents in Johannesburg, meeting inter alia Mr de Jouy from Bardahl.
On 28th June, 1959, I gave Kallos my telegraphic notice of termination of employment per 31st July, which was accepted telegraphically on 29th June. I also requested payment of the balance of my bonus per 31st July; at the same time I asked for my name to be struck off the list of directors of Agimpex (Pty) Ltd. My testimonial from Kallos & Son (Pty) Ltd. confirms that I was their Export Manager.
In June 1959, my old P.O. Box 8660 Johannesburg was transferred to Agimpex (Pty) Ltd. (Directors then were F.F. Haenggi, Dr. G. Lorandos, J. Ceronio). My new P.O. Box 3422, Johannesburg, would remain with us for many, many years! Dr. Carel de Wet, M.P., had given me a personal recommendation in support of an urgent application at the GPO, Johannesburg, as there was a long waiting list, so I got my box straight away - it helps to have powerful friends!
I returned to my flat at 32 Trianon, Avenue Marseilles, Sea Point, on 3rd July (the lease expiring on 1st September, 1959), somehow moving to my new flat.
As from 1st July, 1959, I had leased a flat and garage at 11 "Chamonix", Friars Road, Sea Point, Cape Town, at the monthly rate of £23 for the apartment and £3 for the garage, the property being owned by Côte d'Azur Estates, leased through Syfret's Trust at Wale Street, Cape Town. As I only reported this to the Aliens Registration Office on 1st September, I got a warning in my booklet! Unfortunately, I could not get out of my new lease, which would have been nice in view of the new development in my work situation.
One of my neighbours at "Chamonix" was the Swiss couple Joe Giezendanner and his wife, much involved in the local Swiss community. His firm, F. Notter & Co., were agents for Zwicky and the manufacturer of fasteners "Riri". Sometimes I was invited to join them and their friends for supper, but due to my work pressure, I always arrived at coffee time after they had already finished supper!
The Giezendanner and Podestà families from Cape Town, 1959, with FMLH and myself
Through them, I met many Swiss people. I also attended the 1st August dance at the Mount Nelson in Cape Town, went a few times to the Swiss Club at Jonkershoek near Stellenbosch and once did some shooting exercises on their rifle range which nearly blew out my ear drums - the first time I ever held a Swiss army rifle. I also became very friendly with the Podestà family in Cape Town - Mr Podestà was Bank Manager of the SA Bank of Athens, Cape Town and I would see them or stay with them over the next few years, till we lost contact. Through the Giezendanner's, I was invited to join the Swiss Men's Choir in Cape Town - I went to two or three of their practice evenings, but soon gave up!
I kept an interesting record of data such as labels, price-lists and the like relating to the period I spent in the food export field, as linked.
An entry in my Registration book states that as from 1st September, 1959, I was doing business for my own account.
In fact, I had been preparing the ground for the RIVELLA PROJECT in South Africa since 18th July, 1959, following on my visit at Rothrist the month before, getting all the necessary information and technical data from them to submit to potential SA partners, such as Schweppes in Cape Town, Imperial Cold Storage in Pretoria, Stein Bros. Ltd., Johannesburg (manufacture of concentrate), Lecol Products (distribution). In August, I asked Rivella International, Rothrist, if they would be interested to participate financially. In August, I got the first 12 bottles of Rivella air freighted from Switzerland which I then sent on to Cape Town. At that stage, I mentioned that I would contemplate the registration of the appropriate companies in South Africa.
On 14th August, 1959, I met Mr. Clinton A. Redgrove from London & Dominion Trust, Johannesburg, a few days later Mr. C.H. Brink, MD of Federale Volksbeleggings in Cape Town, submitting my project. There were in fact many more similar meetings with potential investors!
On 9th September, Robert Barth from Rivella International indicated that they would invest a maximum of £5000 for both the projected roof organisation and concentrate plant in South Africa. They also sent me various agreements for consideration. They were to hold 51% of the capital of the roof organisation.
My Father assisted me during all this time in all technical problems or support needed - my personal interest was more the administrative and marketing angle, and getting the whole project going.
According to my letter to Dr Barth dated 28th September, 1959, I had a car accident on the way from Cape Town to Johannesburg during the previous week, when part of my draft agreements for the manufacture of the concentrate were lost!
During September, 1959, Henri visited the French family in Auxonne, then with Nany to Fauvernais, Étampes, thereafter visiting his god-mother Renée in Asnières; he then stayed a few days in Paris and Versailles.
On 13th October, 1959, I sent Rivella International a resumé of the people I had contacted so far which makes for interesting reading. I obviously travelled a lot during this period!
My Mother became one of three partners in the Queen's Hall Art Gallery, Johannesburg, the first exhibition opened on 26th October, 1959. I was not involved at all in the gallery, except attending some of the openings and meeting some of the artists or clients. The other partners were Rosa Lipschitz and Frankie Rubenstein, whose husbands were both lawyers and friends of Donald Gordon who in 1957 registered Liberty Life with a capital of only R84000. I remember quite distinctly Rosa Lipschitz (much later to be known as Lady Rosa Lipworth) asking my Mother at the gallery to please invest some money in Liberty Life, any amount, as they were going to be listed in a few years at the Johannesburg Stock Exchange, and she would do well. Unfortunately Mother had no spare cash at all, nor did I, so we both missed the boat!
During November, I visited the North Western Coop Cheese Factory in Reivilo near Taungs, being at that time the largest and most modern cheese factory in South Africa under one roof, to discuss the possibility of making the concentrate locally which was needed for the Rivella production in Southern Africa.
I left Cape Town on 20th November, 1959, though the lease for "Chamonix" expired on 30th June of next year, to return to my parents flat at 33 Majorca Court, Cavendish Road, Yeoville (near the water tower).
On 23rd December, another 10 cartons of Rivella arrived in Cape Town, sent by their factory in Holland - "Friesland" Coöp. Condensfabriek, Leeuwarden.
My tax assessment for 1959 reflected an assessed income of R3352, on which I had paid R293 to the Johannesburg tax office and R101 to the Cape Town office.
End of Period